Also jetzt ein bisschen über mich....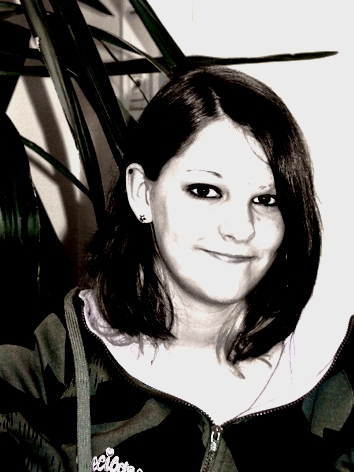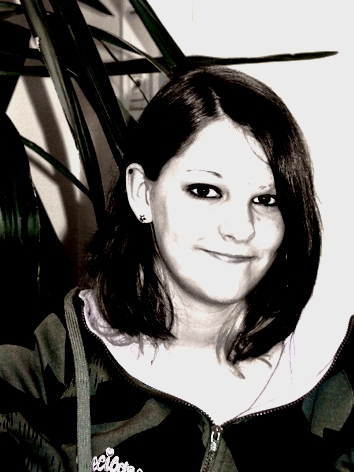 Ähmm...First of all...Hello...

Name: Tanja Sch.... wenn ich das sagen würde währ ich ja schön


Alter: 14
Schule: Dörfelstraße; Wien 12
Klasse: 1.DG
Lieblingsessen:Pizza,Spaghetti, Überhaupt alles mit Nudeln ;) => Nudeln mit Soße...
Status: Single
Lieblingsfarbe: Schwarz, Dunkelrot
Lieblingsdrinks: Eistee, O-Saft, Baileys, Punsch,...
Lieblingssendung(en): Viva La Bam,Die Simpsons,Futurama,...
Glückszahl: 3+9
Das verrückteste was ich bis jetzt gmacht hab:
1. Mit 6 Jahre mit meiner Freundin experimentieren und naja.. der Teppich war dann im Arsch.. hatte ziehmlich viele Hügel & Beulen...
2. Zweites Ohrloch selber gestochen... war aber ned das 1... Und mehr dazu schreib ich ned weil naja

aba ich denk mal das ich mir schon zu viel selbst gestochen hab...

Da war scho so viel das weiß ich nimma..
Lieblingswort: OMG...

Lieblings "schreibe - MSN" Wort : Bam...

Das peinlichste was mir je passiert ist:
Weiß ich nimma ist schon so viel peinliches passiert
Hobbys: WR ,Schlafen, mit Freunden weggehen, Musik hören, Sport machen, ins Kino gehn, chattn, im I-net surfn, Bilder machen ( am PC) oda einfach nur zeichnen, chilln, deppad sein, ja shice bauen... Tanja sein...

....

Lieblings CD: Good Charlotte - The Young and The Hopeless
Lieblingslied(er): GC - Predictable + Girls & Boys + The Anthem + The River + My Bloody Valentine + The Day That I Die + I Heard You + The Young and Hopeless + Festival Song + Meet My Maker + We Belive + Wondering + Riot Girl + Movin on + The Story Of My Old Man ... eig alle!!!!!!

Linkin Park - ALLE !! BIS AUF DIE VON -> REANIMATION <- die sind zum kotzn
Atreyu - The Theft!!! + Aint Love Grand + Our Sick Story + The Crimson + Demolonogy of Heartache + You Give Love A Bad Name + Exs And Ohs + Lip Gloss And Black + Right Side Of Bed + Her Portrait in Black... Sind einfach nur genial!
30 Seconds To Mars - From Yesterday + The Kill + Attack
3 Feet Smaller - Reason Unknown +Rich Bitch + Strike Back + Declared Void + Dance With Me!! + Alone in the Dark + Let it out + Another Broken Heart + Maybe Next Year + Comepletely Different + Suffocate me + My Inspiration
AFI - Silver and Cold + Morning Star + Kill Caustic + Miss Murder + I Wanna Get A Mohawk + Total Immortal + Ever and A Day + The Leaving Song + Girls Not Grey + The Lost Souls + The Last Kiss + This Time Imperfect
Senses Fail - Bite To Break Skin
Simple Plan - Vacation + Perfect + Perfect World + I´d do Anything + I´m just a kid
Haustiere : Neee, aba 11 Pflegepferde , 1 Mietpferd , 4 Pflegehunde xD
Lieblings Star(s): Benji Madden + Billy Martin + David Desrosiers
Lieblings "Boyband": Good Charlotte
Lieblings Girlband: ???
Lieblingsbuch: Ich und lesen? Darf ich jetzt lachen?! *looool*
Lieblingsfilm(e):HdR, Matrix , Fluch der Karibik 1+2, The Punisher, Panic Room, Freaky Friday, Ein verrückter Tag in New York , The Nightmare Before Christmas...
Lieblingsband: Good Charlotte
Fav Place: Zaus=> Kann ich eig gar ned sagen...
I like: Emos, Skater, Boyz, Demos, Piercings, Tattoos, Punkrock, Metal, Benji Madden + Billy Martin + David Desosiers

, Buttons, Karo - Muster,...

.... LOVE IT!! (Die Beste Frisur die er bis jetzt hatte...(Obwohl er viele coole hatte..))
I hate: Techno (It just SUCKS!!), Hip Hop, Eierspeise

, Tussis, Eingebildete Menschen, Pelze, Fleisch (also sagen wir so ich muss es ned umbedingt haben...), Tierhandel, Tierschänder usw...
I WILL HATE THIS BANDS FOR EVER -> NIRVANA + GREENDAY !!
THEY JUST SUCK!!!

Mein Lebensmotto:
Man hat mich nicht gefragt ob ich leben will!
Also soll mir verdammt nochmal keiner sagen wie ich mein Leben zu leben habe!
ODER
Mir is scheißegal was ihr von mir denkt! Eure verdammte Meinung geht mir am Arsch vorbei!
Also ja so nach dem Prinziepen lebe ich..
Lieblingskleidungsstück(e):
1.T-Shirt

2. Chucks , Docs , Vans
3. Jeans..
Fav. Bands: (1-10)
1. Good Charlotte
2. Linkin Park
3. 3 Feet Smaller
4.AFI
5. Atreyu
6. Slipknot
7. From First To Last
8. 30 Seconds To Mars
9. Anti-Flag
10. Senses Fail
Coole Bands:
GOOD CHARLOTTE!!!!! , 3FS!! (3 Feet Smaller)!!!, Linkin Park!!!, Vanilla Sky, NOFX, MxPx, Millencollin, Slipknot!!!!, Sugarcult, Bad Religion, Sum 41, Pennywise, Misfits, Anti-Flag, AFI!!!, Lostprophets, The Perfect Mistake, Panic! At The Disco, Another Day Break, Atreyu!!!!!, Death By Stereo, Wizo, Goldfinger, Bullet for my Valentine, 30 Seconds To Mars!! , Senses Fail, Joy Became Clear, From First To Last,Matchbook Romance, ......
( Keine bestimmte Reihenfolge..)
Wer mehr wissn will: => mail mir..